Tomapure
The only washed, « debacterialized » and ready-to-eat tomatoes!
All of our Tomapure grape tomatoes are thoroughly cleaned so that they are entirely free from bacteria, yeast and other fungi that could be present in their natural state and which could affect their quality and accelerate their aging. Using our exclusive patented technology, the shelf life of our tomatoes is significantly higher than regular unwashed tomatoes. To learn more about our unique production methods, click here.
320 g size
Our Tomapure grape tomatoes are available, among others, in an innovative, well-ventilated 320 g tub that is also fully biodegradable (including plastic, label and ink).
Our fresh, field-grown grape tomatoes are carefully selected and have a sweet, delectable taste so you can enjoy them by themselves, or in a salad. A healthy, nutritious and deliciously practical choice!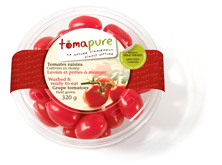 90 g size
Tomapure is also sold in 90 g bag, ideal for lunches and snacks. This size represents exactly one of the 5 to 10 daily servings of fruits and vegetables, as recommended by the Canadian Food Guide. Cutting-edge micro-perforated pack technology allows gasses emitted by the tomato to escape without letting in any air. And once opened, the bag stands on end… now that's practical!